IFI visited by International Delegation of FPT Education Global
MONday - 13/01/2020 15:09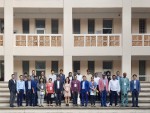 On January 10, IFI had a meeting with the international delegation of FPT Education Global. This visit has created opportunities for developing, expanding international enrollment, attracting students from many countries in South Asia and Africa to Vietnam. At the same time, this event has also promoted the image of Vietnam as a new destination for international students, with many choices in overseas study plans.
At IFI, the Delegation was introduced the current Masters Programs of IFI:
Master of IT specialized in Intelligent Systems & Multimedia
Master of IT major in Data Transmission & Computer Networking
Master of Information - Communications, Specialized in Digital and Editorial Communication
Master of Banking and Financial Technology
IFI is an International Academic Institution with the majority of international students in the educational system of Hanoi National University. Therefore, FPT hopes that at the conference of study abroad consulting companies in South Asia and Africa to Vietnam this time, to introduce: "The quality of training in Vietnam is not lower than other countries in the world". At IFI, international students have opportunities to choose majors in English / French teaching language. In addition, FPT also wants to cooperate with IFI for supporting and supplementing international students for long-term study in Vietnam.