IFI students continue to receive support in COVID 19 pandemic
MONday - 20/04/2020 14:42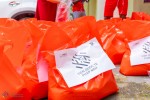 In addition to the students enrolled in vocational training abroad, IFI has now nearly 100 international students from over 20 countries living in VNU dormitories. In order to provide the best support for international students in the COVID 19 "tsunami", IFI Youth Union has cooperated with the VNU Youth Union to provide food and other essential items directly for the students.
Each student received 10 kg of rice, 0.5 kg of peanuts,10 eggs, and an anti-epidemic gift from IFI.
These students chose to stay in Vietnam at the time when the Covid 19 epidemic was spreading across the globe and were extremely excited, expressing their gratitude for IFI's support.