Lovatiana Michel Rakotoasimbola, after a long course managed to get a scholarship in Vietnam. He was received by the Honorary Consul of Vietnam yesterday at the headquarter in Anosivavaka. He graduated from the National School of Computer Science Fianarantsoa, one of the top schools of the country.
Henintsoa Lovaniaina Rakotoasimbola, a young graduate student from the National School of Computer Science in Fianarantsoa, ​​has just received a scholarship for Vietnam. After successful completion of the examination of the International Francophone Institute in Hanoi, he will be enrolling for 23promotion 2018-2020 of the Master's degree in Computer Science, specilazed in intelligent systems & multimedia. As a former student of Fianarantsoa, ​​Henintsoa won the competition with the highest score of 95/100 among twenty candidates from different countries. Yesterday. he just received the congratulations from the Honorary Consul General of Vietnam, Eric Ramiandrasoa Nazaraly, for the achievement during the ceremony of "tso-drano". Henintsoa Rakotoasimbola is thus, this year, one of the initiatives in Vietnam who received each academic year scholarship based on excellence and merit, to study in universities and colleges in this country. He will come to Hanoi on September 10, 2018.
Extract from the newspaper Midi Madagasikara 01-09-2018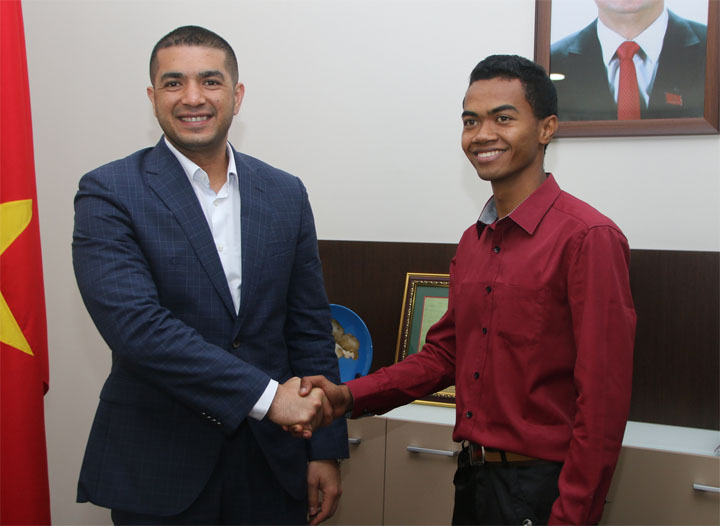 Lova was encouraged by her teacher who resides in Vietnam to apply to the International Francophone Institute in Vietnam. "I only sent my documents because I was the major of my promotion with a 17/20 rating. This institute provides a quality training in computer science. I passed the international entrance test in April. I am admitted among the twelve selected with a very good score of 95/100. After another assessment of the International Institute, I received my visa and I will arrive on September 10, "he explains. This young student will continue his studies in computer science to obtain his license and will be able to choose between Canada, Belgium, France and Switzerland to do his doctorate. Vietnam opens for all students around the world. Lova is a model student for Madagascar. "Granting scholarship in Vietnam is eligible not only for Malagasy but for students around the world. Lova achieved good results during the exams. During the second session, he was again excellent. I encourage students who want to continue their studies in a specific field to consult the Consulate for the necessary information, "said Eric Ramiandrisoa, Honorary Consul of Vietnam.
Extract from the newspaper L'express of Madagascar 01-09-2018